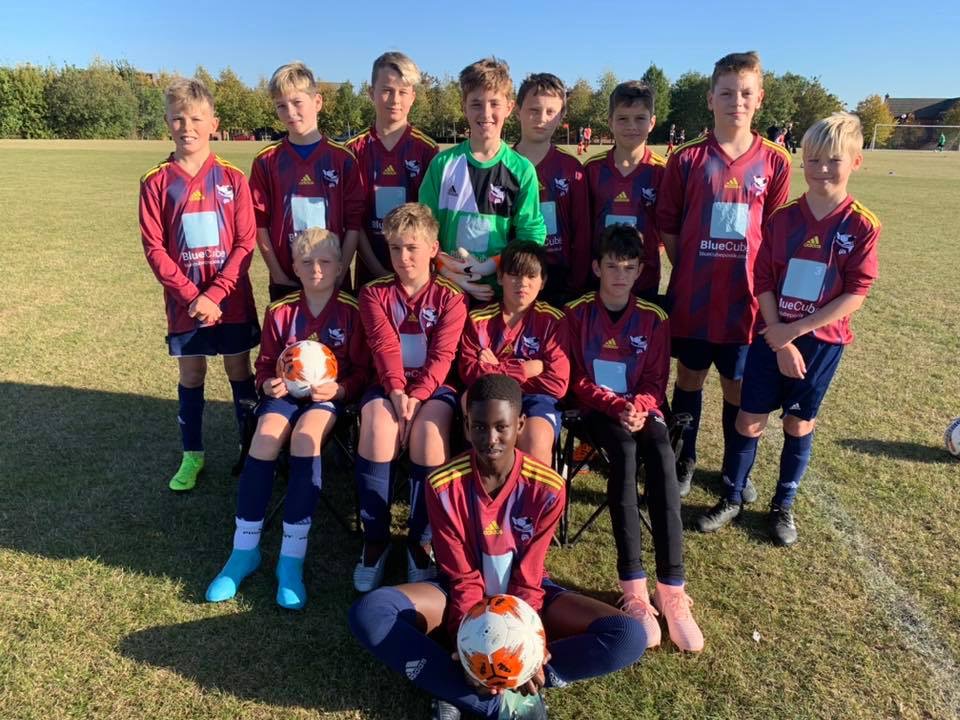 TEAM - SHARNBROOK UNDER 14's
Manager - Dave Sharples   Head Coach - Richard Watts
Contact - Email
Training Venues: Training is at 6.30 pm - 7.30 pm on Wednesday's at Sharnbrook Upper School, which is an Astro pitch so no studs, blades or moulded boots. Only trainers or Astro pimple soles. During Summer months we train at Lodge Road Playing Field, Sharnbrook.
Sharnbrook Under 14's play organised Home & Away fixtures in the Milton Keynes & District Development League (MKDDL) on Saturday mornings. All of our football is centred around the players being SAFE and having FUN whilst developing as people and then players.
MATCH REPORTS 2019/2020 SEASON
Middleton Cheney vs Sharnbrook - 12th October 2019
The U13's had over an hour's drive to Middleton Cheney for this morning's fixture. Preparations weren't great - with their goalkeeper, Charlie S injured, Will dropped into goal from defence. Also Woody and Harrie were unavailable leaving just one sub.
Having gone 1-0 down, Andre levelled before half time. In the second, Theo was brought down for a penalty, scored by Warwick. Sharnbrook then pushed on and got a third, again from Warwick. This game could have gone either way but Sharnbrook held firm.
Goals: Andre, Warwick 2 (1 pen)
Man of the Match - Ashton
Middleton Cheney 1 - Sharnbrook 3
Eaton Bray vs Sharnbrook - 5th October 2019
From 2-0 down against EB Lions away, our U13 fought back with goals from Hazza, Warwick and Woody to lead 3-2. Then our goalkeeper's clearance was handled back last him and bundled in. The ref gave the goal so 3-3. However, after playing the better football, Sharnbrook weren't to be denied. With a minute to go, a short corner from Dan to Warwick and, as he was given space and time to pick his shot, Warwick buried the deserved winner.
EB Lions 3 - Sharnbrook 4
Goals: Hazza, Warwick (2), Woody
Man of the Match - Cameron
Eaton Bray 3 - Sharnbrook 4
Sharnbrook vs Two Mile Ash - 28th September 2019
The U13 faced Two Mile Ash this morning in the early kick off. Two players made their first appearances of the season - Woody after injury and Tim after having academy games.
Sharnbrook started really well and despite having a brilliant team goal ruled out for offside, went into the break 8-0 up. The team were then set the twin targets of keeping the clean sheet and continuing to push for more. This was achieved and all players gave a great performance from start to finish, as shown by the further six goals scored with none conceded. Final score : Sharnbrook 14 - Two Mile Ash 0
Goals: Woody - 4 (1 Pen), Dan 3, Tim 3, Ashton 2, Hazza 2
Man of the Match - Dan
Sharnbroook 14 - Two Mile Ash 0
Tattenhoe Yellows vs Sharnbrook - 21st September 2019
Sharnbrook U13 took on Tattenhoe Yellows this morning in a closely contested battle. There was great football from both teams. Goals from Dan (2), Warwick and Hazza as well as a great performance in goal from Charlie S, saving a penalty and making many great saves, were not enough as we ended up losing 6-4.
Man of the Match - Charlie S
Tattenhoe 6 - Sharnbrook 4
Sharnbrook vs Woburn & Wavendon - 14th September 2019

The gorgeous weather, awesome pitch and the fantastic new kit really deserved a great game to start the season and the U13 against Woburn and Wavendon Whirlwinds certainly didn't disappoint. Sharnbrook started really well with plenty of movement and slick passing. Warwick, on his debut, scored the opener. A ball to the left channel was chased by Hazza. He out-muscled his defender a buried from a tight angle. Sharnbrook should have been more than 2-0 up at half time but this was not to be. W&W started the second half well and caused a mistake at the back. The striker was given too much space and he scored to make it 2-1. On previous occasions, this could have impacted the confidence but not today. The defence stood strong and even had some luck on a couple of occasions. At the other end, Warwick bagged another couple to complete his hat-trick. Having been denied previously by a great save, Dan got the goal he deserved. Charlie A completed the scoring. 
Man of the Match - Warwick
Sharnbrook 6 - Woburn 1
MATCH REPORTS 2018/2019 SEASON
Towcester vs Sharnbrook - 16th March 2019
After last week's poor performance in poor conditions, the last thing our U12's needed was an early start away to Towcester with a very strong cross wind. This really was end to end and both goalkeepers were kept really busy and able to show how good each of them were. Sharnbrook took a deserved lead with a strong shot from Theo that their keeper couldn't hold. As it headed towards goal, Josh was there just in case but he told us that Theo's shot crossed the line before he made sure. Towcester equalised with a bit of luck. A hopeful ball into the box held up on the wind rather than carrying through to Charlie and their striker finished well. In the second half, Towcester took the lead from a well worked corner but Sharnbrook weren't disheartened. They continued to try to play their style of football but it just didn't come off. Our strong defensive play left Towcester resorting to the long ball over the top so it was ironic that this is where our equaliser came from. Charlie launched one which bounced mid way in the Towcester half. Woody collected it and scored well. There was still time for Towcester to attack again and with another through ball, Charlie S slipped and was sitting down but recovered his footing just in time to pull off a great save.
Man of the Match - Josh & Charlie A (Shared)
Towcester 2 - Sharnbrook 2
Sharnbrook vs Heelands - 2nd March 2019
Perfect weather again for the visit of Heelands to play our U12's. Sharnbrook started really well but found a Heelands goalkeeper in fine form able to meet everything thrown at him. Even when he was beaten by a great header from Josh, the post came to his rescue. The game had a feeling that it just wasn't Sharnbrook's day. This was compounded when a rare counter attack from Heelands was finished well to give them a lead. With half time approaching, Hazza chased a lost cause to the left corner, looked up and finished to the top far corner to level. Dan then again attacked down the left and shot well. This time, the keeper got a hand on it only for Hazza to net the rebound. This seemed to affect Heeland's confidence and Sharnbrook really hit their stride in the second half. First Hazza finished his hat-trick, then Woody hit his own hat-trick in quick time. A handball in the box gave us a penalty which Theo dispatched into the roof of the net. Theo got a second, Hazza a fourth and then Charlie A on a surge forward from centre back was not to be denied. An injury to Charlie S in goal resulted in Will dropping in and he performed well with good clearances and composure under the back pass.
Man of the Match - Will
Sharnbrook 10 - Heelands 1
Sharnbrook vs Towcester Town Tigers - 23rd February 2019
The morning's sun was perfect for our U12s first game in 4 weeks. Our opponents were the alliterative Towcester Town Tigers. Sharnbrook started really well but the match rustiness was evident in the final ball and in not challenging as quickly as usual. Towcester took the lead from a counter attack but Sharnbrook had the lions share of possession. The second half started much the same as the first half, with Sharnbrook dominating possession again but being caught on the counter. We were saved once by the offside flag but the second time, this decision was correctly overruled and the goal stood. However, with 15 to go, our pressure paid off. Woody managed to engineer a little space and scored. This was doubled a couple of minutes later. In fact, Sharnbrook looked the most likely to get the win but Towcester were still dangerous on the break causing Charlie S to make a great save at the end.
Man of the Match - Tim
Sharnbrook 2 - Towcester 2
Sharnbrook vs Linslade Galaxy Boca Juniors - 26th January 2019
This morning our Under 12's faced a very strong side from Linslade Galaxy Boca Juniors. Linslade have a Saturday Div4 side and a Sunday D2 side and often switch players across both teams so we knew we would have a tough game - and so it proved.
The attacking play from Linslade was excellent and they broke through the back line seemingly at will. Too often our goalkeeper was left either one on one or facing two attackers. By half time, it was already 0-3.
Within a couple of minutes of starting the second half, Linslade extended their lead further. Sharnbrook, however, were determined not to go down without a fight. Theo followed up a corner and buried the rebound. Goals were then traded. Ashton showed great composure to round the keeper and score off his weaker foot. Dan hit a great strike for his goal. Sharnbrook kept pushing until the end and were unlucky with being caught on the counter a couple of times.
Man of the Match - Theo
Sharnbrook 3 - Linslade 8

Wooton vs Sharnbrook - 19th January 2019
After a hard fought 2-1 victory last week against Woburn, this week our Under 12's knew they would need a better performance against Wootton. With Wootton 3 points and 1 place above us in the league at the start of play, this was the proverbial "6 pointer."
With Ashton and Will both getting injured early on and Wootton starting strongly, this looked like a tough match. The defence held out however, and then the attack started to flow. One attack down the wing could have been scored by either Hazza or Woody, but it was Woody who got the touch. This was then built on with another from Woody and two from Dan - one a real screamer - giving us a 4-0 lead at half time.
With Will and Ashton able to run their injuries off, the second half began with Wootton again showing a fight back. Sharnbrook kept strong and again, started to take control. Tim slotted in from a corner and then after a goal mouth scramble, Josh managed to get the ball across the goal line ... just. The final goal came from a cross by Theo which was turned into their own net by a Wootton defender.
This was not the last action, however. Wootton pressed for the consolation that their performance deserved. With the ball dropping on the edge of the box, the Wootton striker sent his shot towards the top corner. Charlie S was determined however to keep his clean sheet and at full stretch, pushed this around the post.
Man of the Match - Charlie S and Dan (shared)
Wootton 0 - Sharnbrook 7.
Sharnbrook vs Woburn & Wavendon - 12th January 2019
Man of the Match - Charlie A and Tim (shared)
Sharnbrook 2 - Woburn & Wavendon 1.
Winslow vs Sharnbrook - 15th December 2018
Winslow 3 - Sharnbrook 1.

Sharnbrook vs Wing Raiders - 1st December 2018
A 10am kick-off in Wing meant an early start for the U12 - something that the team don't like. However, with a corner from Dan deflected in off Wing's goalkeeper within the first minute, it looked it would be different this week. However, that was a false dawn. The rest of the first half was all Wing. They got a deserved equaliser when Charlie made a save onto the post only for the Wing forward to follow up to score. It could have got worse - Charlie saving well onto his crossbar, saving at the near post and another onto his post - this time cleared by a defender.
Half time couldn't come soon enough. Following a stern team talk, the second half started more promisingly but again Wing kept pressing. It took a great bit of play with Theo crossing to Josh to score for the lead. Theo then scored his own to stretch the lead. With 15 minutes to go, Hazza came back on and wasted no time in claiming a quick fire hat trick. The scoring was finished off by Will, picking the ball up at half way and running at the defence before unleashing his shot for the final goal of the game
The Wing Manager claimed this second half performance was "the best he had seen this season"
Man of the Match - Cameron
Wing Raiders 1 - Sharnbrook 7.
Sharnbrook vs Oakley Cobras - 24th November 2018
Saturday's Cup Draw brought a local derby for our Under 12s against AFC Oakley Cobras. As Cobras play in the 3rd division whereas Sharnbrook are in Div 4, this was always going to be a tough challenge. Oakley took a deserved two goal lead before Woody pulled one back for Sharnbrook at the end of a flowing move. Oakley then managed to extend their lead before another great Sharnbrook attack caused confusion in the Oakley box resulting in an own goal. Sharnbrook then pushed for the equaliser only to be caught on the counter and a finish worthy of winning the match from Oakley with almost the last kick of the game. The game was played in a great spirit, really shown when Ashton was injured in the Sharnbrook half and Oakley's goalkeeper, one of his friends from school ran over to see how he was when play was stopped.
Man of the Match - Charlie A
Sharnbrook 2 - AFC Oakley Cobras 4.
Sharnbrook vs Tattenhoe Whites - 17th November 2018
The Under 12's were away at Tattenhoe Whites this morning and looking for a good performance. A good move from Tattenhoe was stopped by our defence and turned into a quick counter attack. The cut back found Theo who made no mistake.
Tattenhoe equalised after their attacker reacted quicker to a great save from Charlie S to tap in the rebound. Sharnbrook finished the game stronger and the efforts paid off when their goalkeeper blocked a shot but Woody tapped in. The final goal came from a corner which Dan took and it was deflected in, so credited to Dan. 
Man of the Match - Charlie S 
Tattenhoe Whites 1 - Sharnbrook 3.
Sharnbrook vs Heelands - 10th November 2018
The Under 12s were away again at Heelands this morning. After observing the 1 minute's silence, the team were keen to produce a good performance. There were lots of chances going forward but Heelands' goalkeeper was having a good game. Josh finally broke the deadlock but Heelands equalised from a well struck free kick. Woody put Sharnbrook back in the lead but again, we were pegged back. Sharnbrook weren't to be denied though and Woody struck again. This time, we were able to hold onto the lead to win 2-3 away from home.
Heelands 2 - Sharnbrook 3.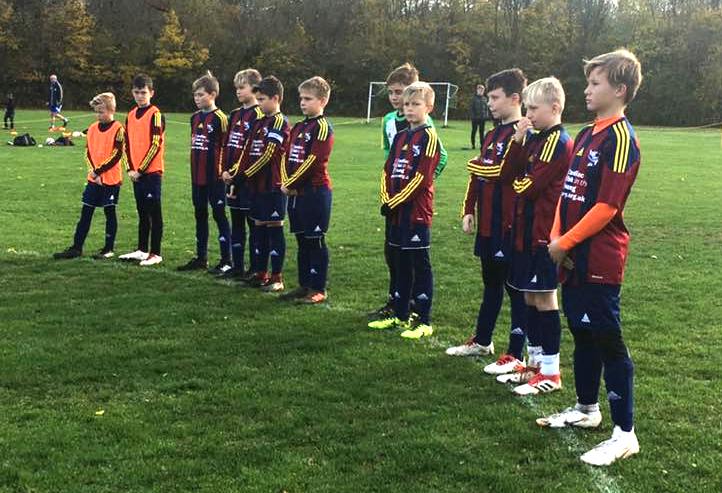 Sharnbrook vs Moretonville - 20th October 2018
The Under 12s had a long trip to Moretonville this morning. Moretonville were unbeaten and second in the league so a good performance was needed. Sharnbrook took the lead with a well worked goal finished really well by Theo for his first goal since joining just over a week ago. Moretonville kept our defence and goalkeeper really busy and scored their equaliser from a corner. The old adage of you are most vulnerable after scoring was proven correct as Hazza gave us the lead almost immediately. Charlie S pulled a couple of great saves but Moretonville equalised with a minute to go.
Moretonville 2 - Sharnbrook 2.
Sharnbrook vs MK Wanderers Hawks - 13th October 2018
The final score of 3-5 doesn't tell the whole story of the U12 loss against MK Wanderers Hawks this morning. Goals from Woody, Hazza and Tim but Josh hit the post twice and a Hawks defender also hit his own post. There were also good saves at both ends. By these small margins games are won and lost.
Sharnbrook 3 - MK Wanderers 5.
Sharnbrook vs Linslade Galaxy Boca Juniors - 6th October 2018
Cold, wet and an early kick off didn't bode well for the Under 12s against a strong Linslade Galaxy Boca Juniors and so it proved. Great play and clinical finishing gave Linslade a 4-0 lead at half time. Games like this could easily descend to a heavy loss but the boys reacted well after the break. They defended as a strong unit and scored two good goals from Hazza and Woody. If it weren't for a final Linslade goal deep into Fergie Time, the end result would have been closer. We won the second half 2-1 so they should be proud of that. 
Man of the Match - William P 
Linslade Galaxy Boca Juniors 5 - Sharnbrook 2.
Sharnbrook vs Wooton Rangers - 29th September 2018
A really tough test for our Under 12 this morning at home to Wootton Rangers Blues. Having gone behind, the boys reacted so well to equalise via Woody. The game could have gone either way. Some good attacking, defending and goalkeeping from both sides. A draw was the fair result and Sharnbrook's unbeaten start to the season continues. 
Sharnbrook 1 - Wooton 1.
Sharnbrook vs Woburn & Wavendon - 22nd September 2018
Away to Woburn and Wavendon, our U12 were again missing two strikers, Hazza and Andre. Every single player was on their A game though. A tight match but Sharnbrook won 4-1 with goals from Woody (3) and Josh.
Man of the Match - Woody 
Woburn & Wavendon 1 - Sharnbrook 4.
Sharnbrook vs Winslow Tigers - 15th September 2018
The Under 12s went into the first game of their new Competitive League this morning against Winslow United Tigers with one striker unavailable and another carrying an injury which could only last until mid-way through the first half.
Despite this, the boys did really well and goals from Woody (2) on his debut, Dan (2), Josh and Charlie A coupled with a solid defensive display gave the lads a 6-0 win. Well done boys.
Sharnbroook 6 - Winslow 0.